Teaching Pharmacies
Building Classrooms in the Real World
"Building Classrooms in the Real World"
Over the past ten years, HKU Department of Pharmacology and Pharmacy has built robust collaborations with various institutions and stakeholders in local and international healthcare sectors in advancing professional education, service innovation and practice-based research.
Riding on the extensive network and robust rapport with our partners, the Department extends teaching and learning spaces to a variety of practice settings such as community pharmacies and hospitals, where student can gain hands-on experiences of diverse aspects of pharmacy practice.
Exclusive Teaching Pharmacies for HKU Students
Gleneagles Hospital Hong Kong 港怡醫院
Gleneagles Hospital Hong Kong (GHK) is a 500-bed, multi-specialty private hospital with over 35 clinical specializations. As an exclusive clinical partner of The University of Hong Kong (HKU), GHK offers clinical training to students of HKU Faculty of Medicine. All clinical teaching programmes at GHK are designed and run by HKU and taught by university teachers. Apart from classroom lectures, GHK provides an additional teaching ground for HKU pharmacy students, allowing students to receive training exposures in hospital setting, including outpatient and inpatient pharmacies.
The pharmacy department at GHK is responsible to provide a comprehensive range of pharmaceutical services for the hospital. These services include 24-hours pharmacy services, aseptic cytotoxic reconstitution service, pharmacy automation and decentralized medication management, drug information as well as pharmacy clinical interventions. The experiential training at GHK provides unique opportunities for HKU student to strengthen and apply the knowledge and skills acquired in the BPharm programme and to observe and practice professional behaviours and values. Students will gain wide spectrum of pharmacy exposure and experience and be prepared for future professional roles.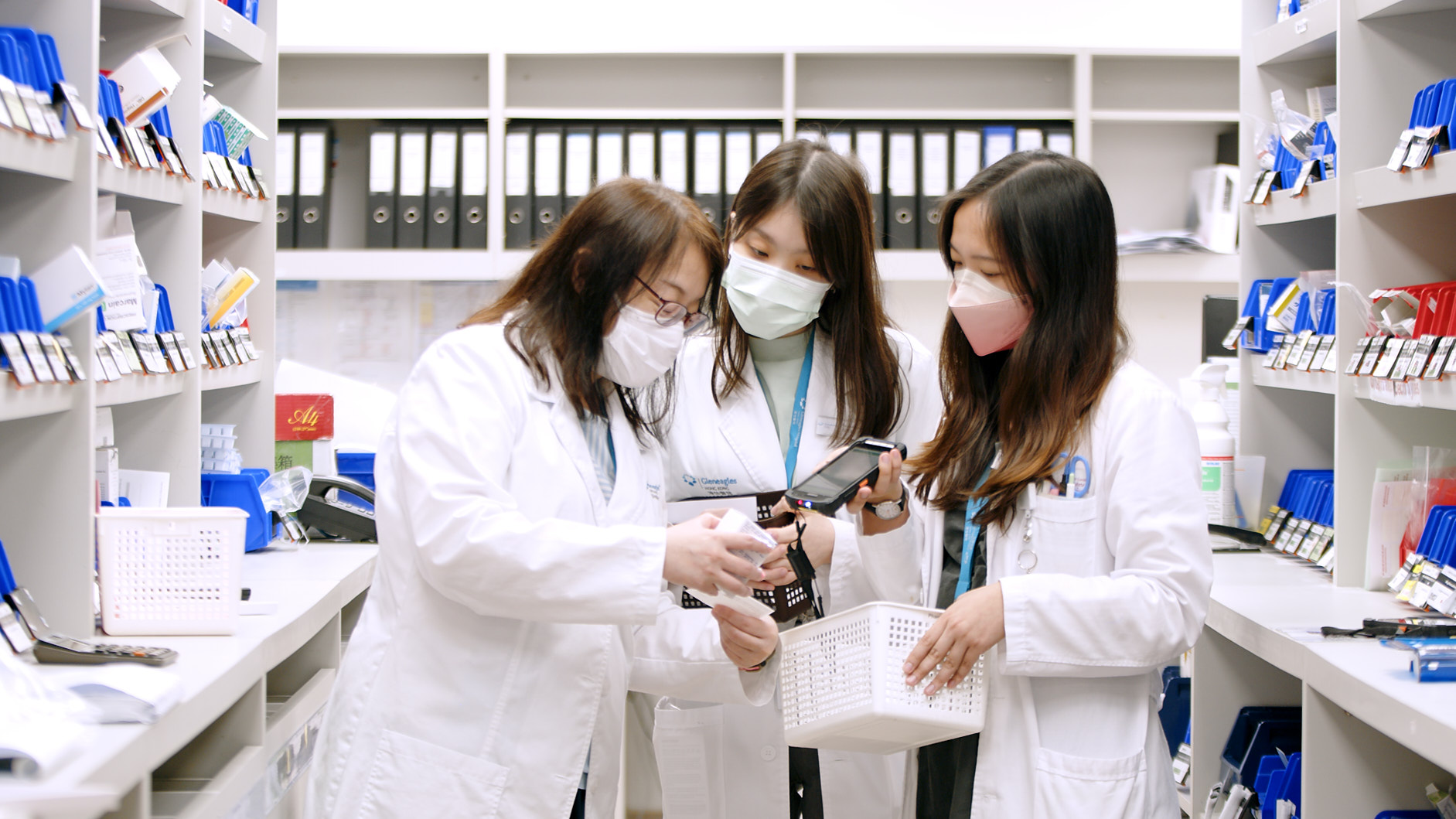 Health In Action Community Pharmacy 醫護行社區藥房
Health In Action
Health In Action (HIA) is a non-governmental organisation which promotes health equity in societies through the cycle of "service, research, social innovation and incubation". With a transdisciplinary team of nurses, dietitian, social workers, pharmacists, physiotherapists, health coaches, community health and public health officers, HIA serves underprivileged communities primarily in Kwai Tsing District. HIA Community Pharmacy is not-for-profit and provides accessible and affordable medicines and pharmacy services to the general public in Hong Kong.
As the first teaching pharmacy in Hong Kong, HIA Community Pharmacy has established a cohesive and supportive teaching and learning environment for HKU students. At the teaching pharmacy, students perform different duties under supervision of pharmacist mentors, including 1) responding to health and medication enquiries, 2) pharmacy management and operations, 3) patient care including medication counselling, 4) planning and implementing community health programmes, and 5) planning and delivering public education.
Working in a transdisciplinary team of nurses, dietitian, physiotherapists, pharmacists, social workers, public health specialists and health coaches, students gain hands-on experience and perspectives in interprofessional collaborative practice that promotes health equity through community capacity building.