Why HKU ? Professor John H McNeil
Delivering Excellence
"With more than 40 years in academic planning as a teacher, researcher and administrator, I was asked to serve as the External Examiner for the HKU BPharm programme three years ago and have evaluated the programme yearly. The content and teaching of the programme have certainly exceeded international standards. The students are excellent, bright, hard-working and dedicated, and their feedback has helped to continue to improve and revise the curriculum".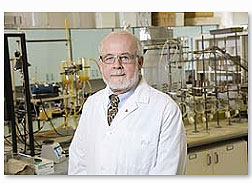 Professor John H McNeill - Professor and Dean Emeritus, Faculty of Pharmaceutical Sciences, University of British Columbia
Mr Law Ming Tak Jetco
Mr Law Ming Tak Jetco
BPharm graduate
Studying in HKU
In HKU, the problem-based learning encouraged students to learn actively and explore the modules that interests us the most, rather than just preparing us for examinations. This allows us to get used to self-continuous learning, which is an essential attitude when we become health-care professionals after graduation.
We are also provided the opportunity to participate in diverse international exchange programmes that allow us to experience the development of pharmacy in different sectors. Last summer, I worked as a research assistant in the King's College London, during which I caught a glimpse of some up-to-date pharmacy researches in the UK, and honed my skill in using many advanced experimental apparatus.
With the cooperation with some community service centres, we even have the opportunity to design pharmaceutical care plans for elderly, and monitor their medication use through home visit. Studying pharmacy in the HKU, equips me not only with professional knowledge, but also with a kind heart, for me to be a successful pharmacist in the future.
Mr Law Ming Tak Jetco
Mr Lau Ho Fan
Mr Lau Ho Fan
BPharm graduate
Volunteer Work - Africa (Ghana) Project organized by Beyond the Pivot, a non-governmental organization initiated by students from HKU (Summer 2013)Mr Law Ming Tak Jetco
During the summer, I joined the Go to Africa (Ghana) Project and went to two cities in Ghana: Kumasi and Amankwadei. The aim of this project is to improve public health and education through latrine construction and voluntary teaching. This trip was a wonderful passage in my university life.
During this trip, we taught local people hygiene knowledge like how to wash their hands. We worked hard to complete the latrine construction in time. We made friends with Africans… All these scenes have become my fondest memories.
We brought some new ideas and knowledge which could improve the living condition of local people. I think this is the most significance thing in this trip to Africa.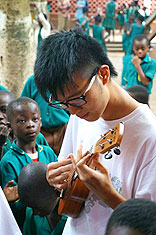 Mr Lau Ho Fan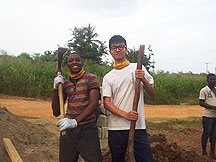 Mr Law Ming Tak Jetco
Miss Leung Yui Ping Selina
Miss Leung Yui Ping Selina
BPharm graduate
Exchange - University of Copenhagen (2012-2013)
When I lived in Copenhagen, I kept reflecting upon and comparing the lifestyles between Copenhagen and Hong Kong. Both are lively cities but these two are totally different in terms of pace, people, transportation, etc. One contrast I noticed strongly every day when I was living in Copenhagen was that Danish people work for living where Hong Kong people live for working. Danes strike a very good balance between work and life. The whole city is very human-friendly.
One interesting thing I observe is that the passenger paths and cycling paths are wider than car roads since the city is created for people not cars according to an architecture course I attend. This observation both inspired and provoked thoughts in a person like myself from a metropolis like Hong Kong who had already forgotten the value of human in a city. This one year of living in Copenhagen really opened my eyes to see things from another world and gave me a pair of new glasses to view my original life when I came back to Hong Kong.
It is these moments that enrich my exchange experience and life.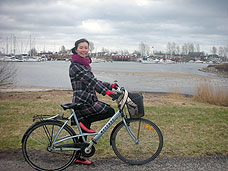 Miss Leung Yui Ping Selina
Ms Karen Lau
Ms Karen Lau
BPharm graduate
Master's student in MSc Global Health and Social Justice (London)
I am grateful and proud to say that my university education at HKU has inspired me to become a global citizen. HKU has offered me diverse opportunities to explore myself and the world around me through experiential learning. Here is a taste of my undergraduate life: discussing medical humanities with a philosopher during summer exchange in the UK, assisting a pharmacist to conduct a patient education workshop during hospital attachment in France, teaching women living in slums how to make leather cases during an empowerment project in India, and many more inspiring moments.
Academic and supporting staff of the Department of Pharmacology and Pharmacy have always been supportive in encouraging me to develop my interests, and many of them have become my friends. As part of the Li Ka Shing Faculty of Medicine, pharmacy students have close connections with other students in the faculty. The student society I was involved in was Health Committee, and my fellow committee members included pharmacy, medical and nursing students. We organized over 40 community services in Hong Kong on health promotion and education. This experience enabled me to better appreciate the role of pharmacists within the healthcare sector as well as in the wider society. The knowledge and experience I acquired as a pharmacy student at HKU will always be a valuable asset that also leads me on in my next page in life.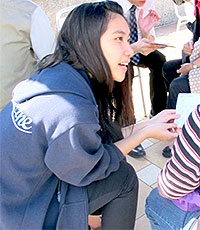 Ms Karen Lau
Mr Kwok Tsz Ka Simon
Mr Kwok Tsz Ka Simon
BPharm graduate
Resident Pharmacist, Hospital Authority
Not only the structure of the HKU curriculum, but also the unique university culture and facilities available to me, prepared me for future challenges. There were lots of opportunities to explore various pharmacy areas during study and from which I found my determination to the hospital sector.
A small group size gives the feeling of a smaller family, and this also means closer and warmer relationships. Support from the Department still continues into my employment years. I am proud to be one of the first batch of graduates of BPharm from HKU in 2012. We grow with the Pharmacology and Pharmacy Department and will continue to develop strengths together. Let us enjoy and be determined in improving people's quality of life and contributing to the healthcare system.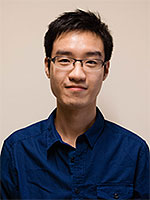 Mr Kwok Tsz Ka Simon