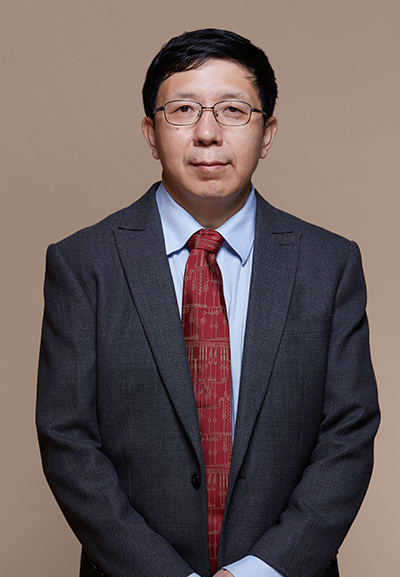 Biography
Memberships & Editorships
Memberships:
Deputy Chair, Biochemical Journal
American Diabetes Association
American society of Biochemistry and Molecular Biology HBHA center, HKU
Editorships:
Editor: Clinical Science, PLOS One
Editorial Board member, Journal of Obesity, Journal of Diabetes, Adipocytes, Cardiovascular
Drugs and Therapy Editor
Research Interests
Obesity is a major risk factor of type 2 diabetes (T2DM), insulin resistance and cardiovascular diseases (CVDs). In obesity, chronic metabolic stresses trigger adipose tissue inflammation and promote macrophage infiltration, resulting in aberrant secretion of bioactive peptides (known as adipokines). Our primary research interest is to investigate the role of adipokines in the pathogenesis of obesity-related insulin resistance, systemic inflammation, T2DM and vascular dysfunctions in animal models and human subjects. Our long-term goal is to develop adipokine-based diagnostic and therapeutic strategies for obesity-related cardio-metabolic complications.
Identification and functional characterization of adipokine netowork:
Using an integrated proteomics-based approach, we have identified multiple posttranslationally modified isoforms of adiponectin, and have demonstrated that hydroxylation and subsequent glycosylation of several lysine residues at the collagenous domain are obligatory for insulin-sensitizing effects of adiponectin by promoting the formation of high molecular weight oligomeric complexes (Wang Y, JBC, 2002, 2005, 2006; Biohcem. J, 2008; Xu A, JCI, 2003). We have also identified the circulating form of adipocyte fatty acid-binding protein (A-FABP) and lipocalin-2 as pro-inflammatory adipokines mediating toxic lipids-induced insulin resistance and vascular dysfunction (Xu A, Clin Chem: 2006; Circulation: 2007; Hui X, JBC:2010). More recently, we have demonstrated that fibroblast growth factor (FGF21), an anti-diabetic hormone traditionally thought to be produced from hepatocytes, is also secreted from adipose tissues (Zhang X, Diabetes, 2008 and Lin Z, Cell Metabolism, 2013). Furthermore, we found that adipose-derived FGF21 exerts its anti-diabetic activities by inducing adiponectin production (Fig 1). Currently, we are investigating the mechanisms by which FGF21 controls adiponectin production under physiological and pathological conditions.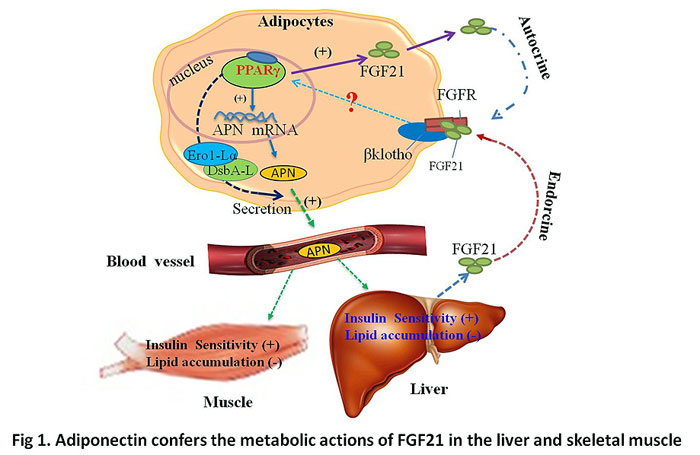 Signaling mechanisms underlying the insulin-sensitizing and vascular protective effects of adiponectin:
Adiponectin is one of the few adipokines with insulin-sensitizing and cardiovascular protective properties, but its mechanisms of actions remain poorly characterized. In 2007, We identified APPL1, an intracellular adaptor protein, as a key signaling molecule that bind to adiponectin receptors mediating adiponectin-induced activation of AMP-activated protein kinase (AMPK), thereby inducing eNOS activation and NO production in endothelial cells (Cheng KK, Diabetes, 2007). Our subsequent studies demonstrated that APPL1 is also a key component of insulin-evoked signaling cascade, by promoting membrane targeting and translocation of the protein kinase Akt (Cheng KK, Cell Metab. 2009; BJ, 2013). Furthermore, using APPL1 transgenic and knockout mice, we have found that APPL1 plays a central role in controlling vascular homeostasis as well as insulin secretion (Cheng KK, PNAS, 2012; Wang Y, Diabetes, 2011).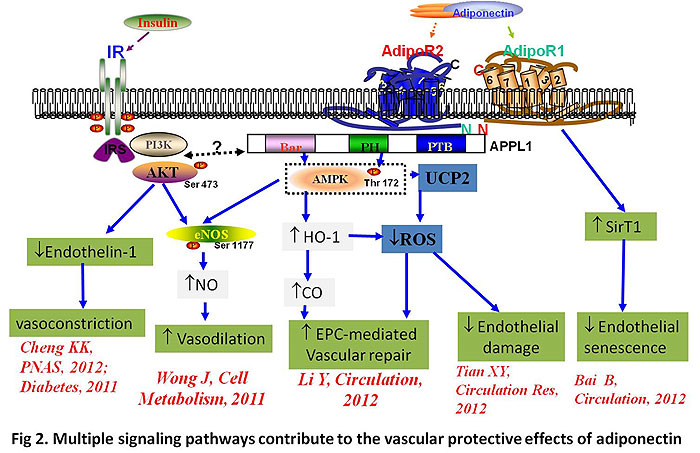 Translational research: Adipokines-based assay development, clinical diagnosis and drug discovery:
Through the Antibody and Immunoassay Service (AIS, www.antibody.hku.hk), we have developed over 20 highly specific immunoassay kits for new adipokines and other biomarkers related to cardio-metabolic diseases. These assay kits are now being commercialized for basic and clinical research, clinical diagnosis and high throughput drug screening. We are working with several overseas and Mainland hospitals to conduct long-term prospective studies to validate the clinical values of our several adipokine assays for risk prediction and early diagnosis of cardiovascular complications of diabetes in different ethnic groups. In addition, we are now using these adipokines as biomarkers for high throughput screening of new compounds from medicinal herbs with anti-diabetic and vasculoprotective properties and for discovery of drug candidates for obesity-related medical complications by targeting the adipo-vascular axis.
Publications
Selected Publications
Hui X, Gu P, Zhang J, Nie T, Pan Y, Wu D, Feng T, Zhong C, Wang Y, Lam KSL,

Xu A*

. Adiponectin Enhances Cold-Induced Browning of Subcutaneous Adipose Tissue via Promoting M2 Macrophage Proliferation. Cell Metab. 2015 Aug 4; 22(2):279-290.
Lin Z, Pan X, Wu F, Ye D, Zhang Y, Wang Y, Jin L, Lian Q, Huang Y, Ding H, Triggle C, Wang K, Li X*,

Xu A*

. Fibroblast Growth Factor 21 Prevents Atherosclerosis by Suppression of Hepatic Sterol Regulatory Element-Binding Protein-2 and Induction of Adiponectin in Mice. Circulation. 2015 Mar 26;131(21):1861-71.
Yau SY, Li A, Hoo RL, Ching YP, Christie BR, Lee TM,

Xu A*

, So KF*. Physical exercise-induced hippocampal neurogenesis and antidepressant effects are mediated by the adipocyte hormone adiponectin. Proc Natl Acad Sci U S A. 2014 Nov 4;111(44):15810-5.
Ye D, Wang Y, Li H, Jia W, Man K, Lo CM, Wang Y, Lam KSL*,

Xu A*

. Fibroblast growth factor 21 protects against acetaminophen-induced hepatotoxicity by potentiating peroxisome proliferator-activated receptor coactivator protein-1α-mediated antioxidant capacity in mice. Hepatology. 2014 Sep;60(3):977-89. (Selected for commentary @ Fibroblast growth factor 21: a new liver safeguard. [Hepatology. 2014])
Wang Y, Xiao Y, Zhong L, Ye D, Zhang J, Tu Y, Bornstein SR, Zhou Z*, Lam KS*,

Xu A*

. Increased Neutrophil Elastase and Proteinase 3 and Augmented NETosis Are Closely Associated with β-cell Autoimmunity in Patients with Type 1 Diabetes. Diabetes. 2014 Dec;63(12):4239-48 . (

Selected for commentary

@

Autoimmune diabetes: caught in a NET

. [

Diabetes. 2014

])
Cheng KKY*, Zhu W, Chen B, Wang Y, Wu D, Sweeney G, Wang B, Lam KSL,

Xu A*

, The adaptor protein APPL2 inhibits insulin-stimulated glucose uptake by interacting with TBC1D1 in skeletal muscle. Diabetes, 2014 Nov;63(11):3748-58.
Liang Q, Zhong L, Zhang J, Wang Y, Bornstein SR, Triggle CR, Ding H, Lam KSL*,

Xu A*

. FGF21 Maintains Glucose Homeostasis by Mediating the Cross Talk Between Liver and Brain During Prolonged Fasting. Diabetes. 2014 Dec;63(12):4064-75 (

Selected for commentary

@

Head over hepatocytes for FGF21.

[

Diabetes. 2014

])
Lin Z, Wu F, Lin S, Pan X, Jin L, Lu T, Shi L, Wang Y,

Xu A*

, Li X*. Adiponectin protects against acetaminophen-induced mitochondrial dysfunction and acute liver injury by promoting autophagy in mice. J Hepatol, 2014 Oct;61(4):825-31
Hoo RLC, Lee IPC, Zhou M, Wong JYL, Hui X,

Xu A*

, Lam KSL*. Pharmacological inhibition of adipocyte fatty acid binding protein alleviates both acute liver injury and non-alcoholic steatohepatitis in mice. J Hepatol. 2013 Feb;58(2):358-64.
Lin Z, Tian H, Lam KS, Lin S, Hoo RC, Konishi M, Itoh N, Wang Y, Bornstein SR,

Xu A*

, Li X*. Adiponectin mediates the metabolic effects of FGF21 on glucose homeostasis and insulin sensitivity in mice. Cell Metabolism. 2013;17:779-89

(Cited ~100 times

)
Cheng KK, Lam KS, Wu D, Wang Y,

Xu A*

. APPL1 potentiates insulin secretion in pancreatic beta-cells by increasing Akt-dependent expression of SNARE proteins in mice. Proc. Natl. Acad. Sci. USA. 2012 Jun 5;109(23):8919-24. (

Selected for commentary

@

Dual functions of adaptor protein, phosphotyrosine interaction, PH domain and leucine zipper containing 1 (APPL1) in insulin signaling and insulin secretion.

[

Proc Natl Acad Sci U S A. 2012

])
Li FY, Lam KS, Tse HF, Chen C, Wang Y, Vanhoutte PM,

Xu A*

. Endothelium-selective activation of AMP-activated protein kinase prevents diabetes mellitus-induced impairment in vascular function and reendothelialization via induction of heme oxygenase-1 in mice. Circulation. 2012 Sep 4;126(10):1267-77.
Ye D, Li Y, Lam KS, Li H, Jia W, Wang Y, Man K, Li X,

Xu A*

. TLR4 mediates obesity-induced nonalcoholic steatohepatitis through activation of X-box binding protein in mice. Gut. 2012 Jul; 61(7): 1058-67.
Chang J , Li Y , Huang Y , Lam KS, Hoo LC, Wong WT, Cheng KK, Wang Y, Vanhoutte PM ,

Xu A*

. Adiponectin Prevents Diabetic Premature Senescence of Endothelial Progenitor Cells and Promotes Endothelial Repair by Suppressing the p38 MAP kinase/p16INK4A Signaling Pathway. Diabetes. 2010 Nov; 59(11): 2949-59.
Cheng KK, Iglesias MA, Lam KS, Wang Y, Sweeney, Zhu W, Vanhoutte PM, Kraegen EW*,

Xu A*

. APPL1 Potentiates Insulin-mediated Inhibition of Hepatic Glucose Production and Alleviates Diabetes via Akt Activation in Mice. Cell Metabolism. 2009 May; 9(5):417-27.
Zhang X, Yeung DC, Karpisek M, Stejskal D, Zhou ZG, Liu F, Wong RL, Chow WS, Tso AW, Lam KS*,

Xu A*

. Serum FGF21 levels are increased in obesity and are independently associated with the metabolic syndrome in humans. Diabetes. 2008 May; 57(5):1246-53.

Xu A*

, Lam MCL, Chan KW, Wang Y, Hoo RCL, Zhang JL, Tso A and Lam KSL, ANGPTL4 decreases blood glucose, improve glucose tolerance, but induces hyperlipidemia and hepatic steatosis in mice. Proc. Natl. Acad. Sci. USA. 2005 Apr 26; 102(17): 6089-91.

Xu A*

, Wang Y, Keshaw H, Xu LY, Lam KS, Cooper GJ. The fat-derived hormone adiponectin alleviates alcoholic and nonalcoholic fatty liver diseases in mice. J. Clin. Invest. 2003, 112:91-100. (

Selected for the cover story of this issue, Cited over 1148 times

).
Funding
2015
RGC Collaborative Research Fund (C7055-14G)

- PI
A Multi-disciplinary Approach to Investigate Vascular Dysfunction in Obesity and Diabetes: From Molecular Mechanism to Therapeutic Intervention

ITC University-industrial matching fund (UIM/270)

-PI
Development of Innovative Chemiluminescent Immunoassays for Diabetes and its Cardiovascular Complications

NSFC/RGC Joint Research Scheme (N_HKU726/14)

– PI
Fatty acid binding protein-4 as a mediator of autoimmune diabetes: from molecular mechanism to clinical significance

General Research Fund (HKU17124714)

– PI
Interplay between Adiponectin and Alternatively-activated Macrophages in Cold-induced Remodeling and Adaptive Thermogenesis of White Adipose Tissues
2014
France ANR/RGC research Scheme (A-HKU-705/13)

– PI
The gut microbiota-adipose tissue axis in the pathogenesis of obesity and its related metabolic disorders: molecular mechanism and clinical implications

General Research Fund (HKU783413M)

– PI
Fibroblast growth factor 21 maintains glucose homeostasis during fasting by mediating the crosstalk between liver and brain

National Key Basic Research Development Program - 973 Program

– Co-PI
The Metabolic Syndrome in Chinese: from molecular mechanism to therapeutic intervention
2013
Qatar National Research Fund-QNRF (NPRP 6-428-3-113)

– PI
The protective effects of FGF21 against vascular disease in obesity and diabetes: molecular mechanisms and therapeutic implications

General Research Fund (HKU 782612M)

– PI
The adaptor protein APPL1 as a physiological regulator of insulin secretion in pancreatic cells

RGC collaborative Research Fund (HKU2/CRF/12R)

– Co-PI
To Establish a Metabolic Study Center in Hong Kong: Focusing on the Emerging Metabolic Hormones
2012
RGC Collaborative Research Fund (HKU3/CRF/11R)

– Co-PI
Liver Transplantation Research Centre: A Multidisciplinary Study for Liver Graft Injury

Theme-based Research Scheme (T12-705/11)

- Co-I
Personalized medicine for cardiovascular diseases

General Research Fund (784111M)

-PI
The Liver-derived Hormone FGF21 as a Novel Regulator of Vascular Function: Molecular Basis and Physiological Implications
2011
RGC collaborative research fund (HKU4/CRF/10)

-PI
A multiple disciplinary approach to investigate vascular dysfunction in obesity and diabetes: From molecular mechanism to therapeutic intervention

National "973" basic research on diabetes matching fund (2011CB504004)

-PI
2型糖尿病发生发展的分子机制研究 (Molecular basis of type 2 diabetes).

General Research Fund (783010M)

-PI
APPL2 as a Negative Regulator of Insulin Sensitivity and Glucose Uptake in Skeletal Muscle: A Novel Pathway Leading to Insulin Resistance?
2010
RGC collaborative Research Fund (HKU 3/CRF/09)

- Co-I
To Establish a Metabolic Study Center in Hong Kong: Focusing on the liver-derived hormones

General Research fund (781309M)

-PI
Characterization of Novel Adaptor Proteins Involved in Regulating Insulin Sensitivity and Glucose Homeostasis: from Molecular Mechanism to Physiological Implication
2009
NSFC/RGC joint research scheme 2008 (NHKU 735_08)

-PI
Adipocyte fatty acid binding protein as a novel diagnostic marker and therapeutic target to combat vascular complications of diabetes: mechanisms and clinical implications

General Research Fund 2008 (779608M)

-PI
Protective roles of AMP-activated protein kinase against vascular disease in diabetes: Molecular mechanisms and therapeutic intervention
Other Information
Research Collaborators
Dr. Gary Sweeney, York University, Canada.
Prof. Edward Kraegen, Garvin's institute, Australia.
Prof. Jia Weiping, Shanghai Diabetes Center, China
Useful Links
Regular Student Consultation Hours
1st/3rd week of every month at 8:00am - 9:00am
Office
8/F, 21 Sassoon Road, Li Ka Shing Faculty of Medicine, Laboratory Block, Faculty of Medicine Building, Hong Kong SAR, China