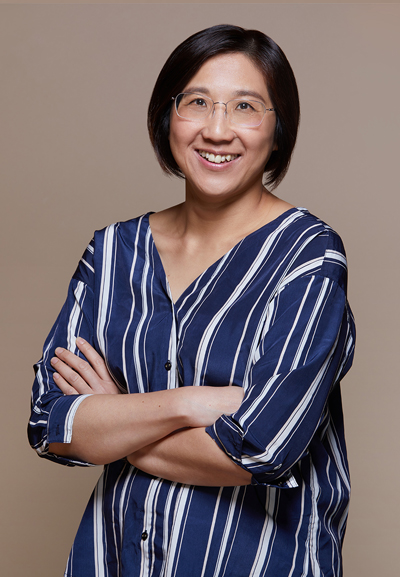 Biography
Dr. Connie Woo obtained her Bachelor Degree in Pharmacy from the Ohio State University in United States, and registered as a pharmacist in Canada and Hong Kong. She completed her MPhil in pharmacology at the University of Hong Kong and PhD in physiology at University of Manitoba in Canada. She then received her postdoctoral training at Division Molecular Medicine, Department of Medicine, Columbia University in New York City, Her research work has been published in several top-ranked journals including Nature Cell Biology. She joined the Department of Pharmacology and Pharmacy, HKU in Nov 2013.
Memberships
Registered Pharmacist, Ontario College of Pharmacy (Canada)
Registered Pharmacist, Pharmacy and Poisons Board of Hong Kong
Co-investigator, The State Key Laboratory of Pharmaceutical Biotechnology
Member, Research Centre of Heart, Brain, Hormone and Healthy Aging, University of Hong Kong (HBHA), HKU
Member, American Physiological Society
Fellow of the American Heart Association
Member, Canadian Society of Atherosclerosis, Thrombosis and Vascular Biology
Honours and Awards
Fellow of the American Heart Association (2017)
Faculty Research Output Prize, Li Ka Shing Faculty of Medicine (2017)
Canadian Institutes of Health Research Fellowship (2010-2011)
Heart and Stroke Foundation of Canada Research Fellowship (2009-2011)
Edwin Kroeger Award for Excellence in Cellular Physiology, University of Manitoba (2007)
Research Interests
Immunometabolism: Local and systemic inflammation is commonly found in many chronic diseases, and metabolic stress appears to be the trigger of these kinds of non-infectious inflammation. Toll like receptor family (TLR) is a group of sensors detecting different kinds of microbes and their products including endotoxin and flagellin, resulting in stimulation of immune response. Many studies have reported the significant roles of different TLRs in these chronic diseases. In spite of their immune-originality, TLRs are present in non-immune cells; however, the function of TLR signaling pathway in these cells is not clear. Our laboratory is interested in the nonconventional TLR function with particularly focusing on the cytosolic adaptor of TLR pathway: TIR-domain-containing adapter-inducing interferon-β (TRIF). TRIF is responsible for interferons production and transducing signal of TLR3 and TLR4.
Gut microbiota: Gut microbiota refers to trillions of commensal bacteria embedded in our gastrointestinal tract, which plays a mutualistic role to us host. The evolutionary purpose of gut microbiota is to increase the capacity of extracting energy from diet and assisting in energy utilization. Alteration of gut microbiota pattern and composition is observed in metabolic disorders, for example, in obesity, the gut microbiota switches from Bacteroidetes-dominant to Firmicutes-dominant. Antibiotics, supplements like probiotics and prebiotics all can interfere the population of gut microbiota. Many strains of the gut microbiota are flagellated. Flagellin can be released from these bacteria and activate TLR5. Another area of study in our laboratory focuses on the role of TLR5 in metabolic function and metabolic stress-induced inflammation.
Non-classical function of TLR: TLR is a human homolog of Toll which was originally found in the fat-body cells of Drosophila. The fat-body cells of Drosophila function similarly to the liver and adipose tissue of human, which are responsible to the energy storage and utilization. Toll in Drosophila not only possesses antimicrobial effects but also regulates embryogenesis. These metabolic- and embryogenetic- related functions of TLR appear to be sophistically hidden during evolution. Our team is also interested in the study of TLR from such perspective.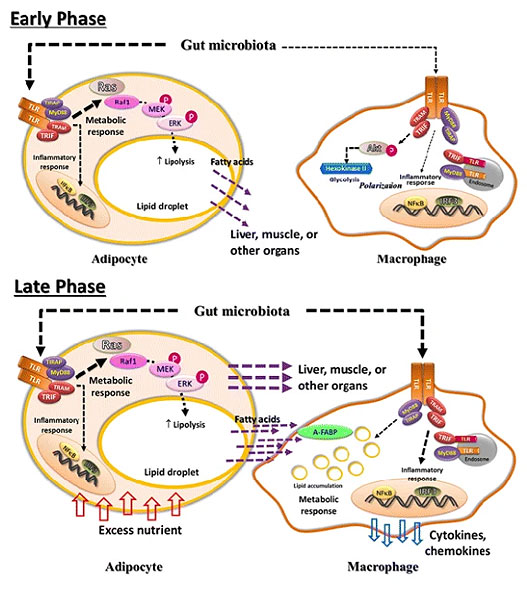 Hypothesis of intercellular energy relocation triggered by gut microbiota. (J Mol Med (Berl). 2017 Jan;95(1):13-20. doi: 10.1007/s00109-016-1474-4.)
Publications
Selected Publications (Publications Core Studies)
(*corresponding author)
Yiu JHC, Chan KS, Cheung J, Li J, Liu Y, Wang Y, Fung WLW, Cai J, Cheung SW, Dorweiler B, Wan EYF, Tso P, Xu A,

Woo CW*

.
Gut Microbiota-Associated Activation of TLR5 Induces Apolipoprotein A1 Production in the Liver. Circ Res. 2020 Aug 21. doi: 10.1161/CIRCRESAHA.120.317362. IF. 15.63
https://www.ahajournals.org/doi/10.1161/CIRCRESAHA.120.317362
Chen J, Li J, Yiu JH, Lam JKW, Wong CM, Dorweiler B, *Xu A, *

Woo CW

.
TRIF-dependent Toll-like receptor signaling suppresses Scd1 transcription in hepatocytes and prevents diet-induced hepatic steatosis. Science Signaling. 2017; 10(491): pii: eaal3336. DOI: 10.1126/scisignal.aal3336.
http://stke.sciencemag.org/cgi/content/full/sigtrans;10/491/eaal3336?ijkey=hAWln0hpu.Q.Q&keytype=ref&siteid=sigtrans
Yiu JH, Dorweiler B,

*Woo CW

. Interaction between gut microbiota and toll-like receptor: from immunity to metabolism. Journal of Molecular Medicine (Berl). 2017; 95: 13-20. Review.
http://link.springer.com/article/10.1007/s00109-016-1474-4
Li J, Lin S, Vanhoutte PM,

*Woo CW

, *Xu A. Akkermansia Muciniphila Protects Against Atherosclerosis by Preventing Metabolic Endotoxemia-Induced Inflammation in Apoe−/− Mice. Circulation. 2016; 133: 2434-2446. IF: 19.309
http://circ.ahajournals.org/content/circulationaha/early/2016/04/25/CIRCULATIONAHA.115.019645.full.pdf
(Listed as highly cited paper by Clarivate Analysis in 2018)

Woo CW

, Kutzler L, Kimball SR, Tabas I. Toll-like receptor activation suppresses endoplasmic reticulum stress-induced CHOP through activation of eIF2B. Nature Cell Biology. 2012; 14: 192-200. IF: 20.761

Woo CW

, Cui D, Arellano J, Dorweiler B, Harding H, Fitzgerald KA, Ron D, Tabas I. Adaptive suppression of the ATF4-CHOP branch of the unfolded protein response by toll-like receptor signalling. Nature Cell Biology. 2009; 11: 1473-1480. IF: 20.761

Woo CW

, Siow YL, O K. Homocysteine induces monocyte chemoattractant protein-1 expression in hepatocytes mediated via AP-1 activation. Journal of Biological Chemistry. 2008; 283: 1282-1292.

Woo CW

, Siow YL, O K: Homocysteine Activates cAMP-response Element Binding Protein in HepG2 through cAMP/PKA Signaling Pathway. Arteriosclerosis, Thrombosis & Vascular Biology. 2006, 26: 1043-1050.

Woo CW

, Siow YL, Pierce GN, Choy PC, Minuk GY, Mymin D, O K: Hyperhomocysteinemia Induces Hepatic Cholesterol Biosynthesis and Lipid Accumulation via Activation of Transcription Factors. American Journal of Physiology: Endocrinology & Metabolism. 2005, 288: E1002-E1010.
Selected Publications (Publications Collaborations)
Sid V, Siow YL, Shang Y,

Woo CW

, O K.High-fat diet consumption reduces hepatic folate transporter expression via nuclear respiratory factor-1. J Mol Med (Berl). 2018; 96: 1203-1213
Shang Y, Khafipour E, Derakhshani H, Sarna LK, Woo CW, Siow YL, O K. Short Term High Fat Diet Induces Obesity-Enhancing Changes in Mouse Gut Microbiota That are Partially Reversed by Cessation of the High Fat Diet. Lipids. 2017; 52: 499-511.
Lee JT, Huang Z, Pan K, Zhang HJ,

Woo CW

, Xu A, Wong CM. Adipose-derived lipocalin 14 alleviates hyperglycaemia by suppressing both adipocyte glycerol efflux and hepatic gluconeogenesis in mice. Diabetologia. 2016; 59: 604-13.
Richards MR, Black AS, Bonnet DJ, Barish GD,

Woo CW

, Tabas I, Curtiss LK, Tobias PS. The LPS2 Mutation in TRIF is Atheroprotective in Hyperlipidemic LDL Receptor Knockout Mice. Innate Immunity. 2013;19: 20-29
Ai D, Baez JM, Jiang H, Conlon DM, Hernandez-Ono A, Frank-Kamenetsky M, Milstein S, Fitzgerald K, Murphy AJ,

Woo CW

, Strong A, Ginsberg HN, Tabas I, Rader DJ, Tall AR. The regulation of hepatic sortilin-1 in obese mice by activation of mTORC1 and ER stress. Journal of Clinical Investigation. 2012; 122: 1677-87.
Nawrocki AR, Hofmann SM, Teupser D, Basford JE, Durand JL, Jelicks LA,

Woo CW

, Kuriakose G, Factor SM, Tanowitz HB, Hui DY, Tabas I, Scherer PE. Lack of Association between Adiponectin Levels and Atherosclerosis in Mice. Arteriosclerosis, Thrombosis & Vascular Biology. 2010; 30: 1159-65.
Cheung YF, O K,

Woo CW

, Armstrong S, Siow YL, Chow PC, Cheung EW. Oxidative stress in children late after Kawasaki disease: relationship with carotid atherosclerosis and stiffness. BMC Pediatrics. 2008; 8:20.
Au-Yeung KK,

Woo CW

, Sung FL, Yip JC, Siow YL, O K: Hyperhomocysteinemia activates Nuclear Factor -kB in endothelial cells via Oxidative Stress. Circulation Research. 2004, 94: 28-36.
Funding
Funding
General Research Fund/UGC (PI), HK$ 996,285, 2021-2024
General Research Fund/UGC (PI), HK$742,233, 2018-2021
Health & Medical Research fund (PI), HK$1,052,696, 2018-2020
Areas of Excellence Scheme (Co-PI), Institute of Metabolic Medicine, 2019-2027
Collaborative Research Fund (Co-PI), Conversion of white into brown adipocytes as a therapeutic strategy for obesity-related metabolic and vascular complication, 2018-2021
Collaborative Research Fund (Co-PI), A Multi-disciplinary Approach to Investigate Vascular Dysfunction in Obesity and Diabetes: From Molecular Mechanism to Therapeutic Intervention, 2015-2018
National Key Basic Research Development Program - 973 Program (Co-PI), The Metabolic Syndrome in Chinese: from molecular mechanism to therapeutic intervention, 2015-2019
Other Information
Current and Previous Lab Members
Dr. Jensen Yiu (Postdoctoral fellow)
Ms. Jieling Catherine Cai (PhD, candidate)
Mr. Wing Ming Samson Cheung (MPhil, candidate)


Mr. Leigang Jin (PhD, 2020)
Ms. Jin Li (PhD, 2017)
Ms. Jamie Cheung (MPhil, 2020)
Mr. William Fung (MPhil, 2019)
Ms. Jing Chen (MPhil, 2016)
Mr. Wing Hong Conrad Chak (MMedSc, 2019)
Ms. Wai Lam Karen Tam (MMedSc, 2019)
Ms. Yushi Mao (MMedSc, 2015)
Research Collaborators
Professor Aimin Xu, Departments of Medicine and Pharmacology & Pharmacy, the University of Hong Kong
Professor Patrick Tso, University of Cincinnati, USA
Professor Bernhard Dorweiler, Vascular Surgery research Lab, Johannes-Gutenberg University, Mainz, Germany
Professor Karmin O, University of Manitoba, St Boniface Hospital Research Centre, Canada
Knownledge exchange
Regular Student Consultation Hours
Every Thursday at 10:00am - 11:00am
Office
2/F, 21 Sassoon Road, Li Ka Shing Faculty of Medicine, Laboratory Block, Faculty of Medicine Building, Hong Kong SAR, China